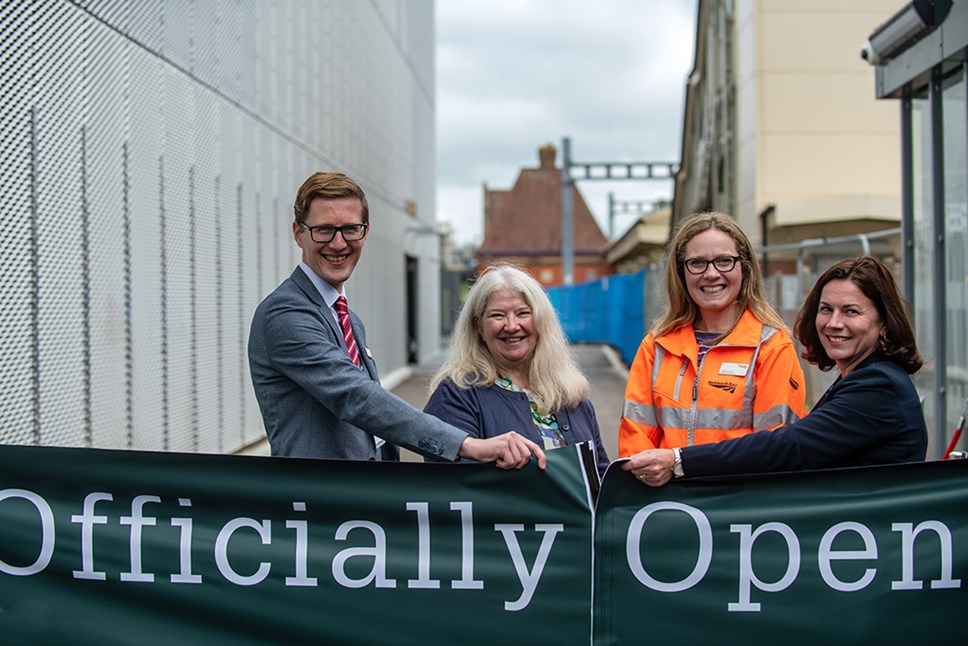 New multi-storey car park opens as redevelopment of Newbury Station continues apace
A new multistorey car park at Newbury Station and the second of new two cycling hubs have now been opened, as the multi-million pound redevelopment of the station continues apace.
The new car park, built on the existing site, provides over 160 additional parking spaces with electric car charging points and improved walking routes between the station and town centre. The second of two new cycle hubs, which together provide 300 extra spaces and are fitted with CCTV for added security, environmentally-friendly motion sensor LED lighting and a bike repair stand, has also been opened.
GWR Business Development Director Tom Pierpoint said:
"It's exciting to have been able to reach this stage of the project meeting a long-held ambition of ours to better support our customers and the wider area in a more accessible and sustainable way.
"Newbury station is a key gateway to the town and this work with our partners will help secure the economic prosperity of the region as we seek to build back better from the pandemic."
Wider plans for the station refurbishment include seven ticket gates on the north side and six on the south side, doubling throughput and bringing the ticket gates inside the station building with sales and waiting areas, and moving the station building closer to the recent installed lift bridge.
There will also be improvements to the public access, making walking and linking to buses easier along with new business growth units on the south side of the station.
The development has been made possible by support from the Local Growth Fund from the Thames Valley Berkshire LEP and West Berkshire Council and by rail industry funding from Network Rail and GWR.
Bob Mountain, vice chair of the Berkshire Local Transport Body and board director at Thames Valley Berkshire LEP, said:
"It's great to see this first stage of the major enhancements at Newbury station now complete. The redevelopment of the station will not only encourage sustainable travel by creating a high-quality transport hub but create a gateway to the growing and ambitious town of Newbury, along with the three new business units that will support local start-up businesses.
"We're delighted to support the work with funding from the Thames Valley Berkshire LEP's Local Growth Fund, which aims to support ready-to-go projects that will contribute to Berkshire's post-COVID economic recovery by building back better."
West Berkshire Council's executive member for Economic Development, Ross Mackinnon, said:
"This is brilliant news for Newbury and the surrounding area – the new units at the station will provide much-needed additional space for local business start-ups to expand and grow in a really sustainable location.
"In recent months we've been focussing on supporting local businesses to respond and adapt to Covid-19, including administering grants and other financial support. But we also need to look to the future, doing whatever we can to help the West Berkshire economy to recover and grow in a post-Covid world.
"I'm confident that this investment from our partners will support the local economy to get back on track and help us deliver our long-term strategic priority – helping businesses to start, develop and thrive in West Berkshire."
Victoria Bradley, Network Rail, sponsor, said:
"This is a great investment for Newbury and the surrounding area. Passengers using the station will really benefit from the additional parking spaces, improved cycle storage and easier access to ongoing transport links.
"These enhancements form part of a series of upgrades to the station to provide passengers with a better travelling experience and to encourage sustainable travel. The next phase is due to start this autumn and will include upgrades to the station buildings, the approach road and forecourt, and bus interchange."
Part of a phased project, work to the station itself is due to start this autumn, followed by the improvements to the forecourt and bus interchange.
Notes to editors
Great Western Railway (GWR) provides high speed, commuter, regional and branch line train services. We help over 100 million passengers reach their destinations every year - across South Wales, the West Country, the Cotswolds, and large parts of Southern England.
We're currently seeing the biggest investment in the network since Brunel so we can offer more trains, more seats, and shorter, more frequent journeys and continue the network's heritage of helping connect more businesses to new and prosperous markets. Through a series of initiatives we aim to be a good neighbour to the communities we serve and are committed to making a positive social impact in those regions. Learn how we're Building a Greater West at GWR.com. GWR is a FirstGroup company.
GWR has been working hard to welcome people back on to its services following the easement of lockdown restrictions.
This includes:
A 24% increase in cleaning hours every week since March 2020
Sanitising (fogging) of 1,120 vehicles every 4 weeks
Carrying out 2,150 on board surface tests (ATP) every four weeks, to ensure the effectiveness of our cleaning
272 train cleaning processes reviewed, and many adapted
Hand sanitising facilities at key stations across its network.
The train operator has also provided extra staff at key stations to offer help and guidance; and processes are in place to help customers maintain a safe distance where possible.
Contact Information
James Davis
Media Relations Manager
Great Western Railway
0845 410 4444
07703 890 711
Notes to editors
Picture shows left to right: GWR Business Development Director Tom Pierpoint; CEO of Thames Valley Berkshire LEP Alison Webster; Network Rail Industry Programme Director Joanna Grew; Leader of West Berkshire Council Cllr Lynne Doherty.