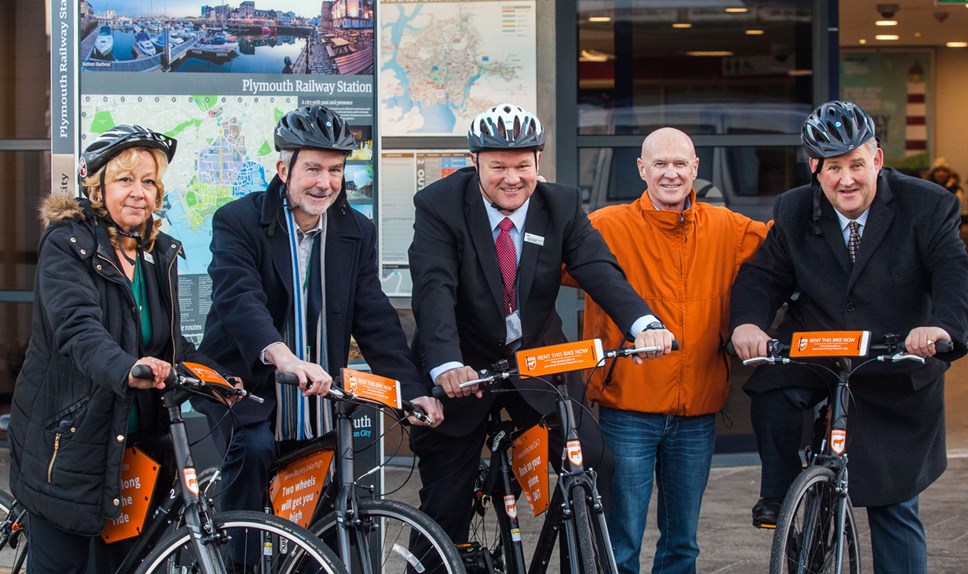 GWR teams up with Plymouth Bike Hire and Donkey Republic to launch app based bike hire at Plymouth station
Great Western Railway has teamed up with a local bike hire company, and an app developer to launch a new bike hire hub at Plymouth Station.

Great Western Railway has teamed up with a local bike hire company, and an app developer to launch a new bike hire hub at Plymouth Station.
The hub can house four bikes, adding to 80 available from
Plymouth Bike Hire
elsewhere in the city, enabling rail users to get to great places in a sustainable way.
Passengers can use the Donkey Republic bike app to locate, hire and unlock a bike 24/7; and all by using their phone.


The new scheme was launched recently by Plymouth MP Oliver Colvile, Council Leader Ian Bowyer, and representatives from the companies involved.
Oliver Colvile said:


"I am very pleased that Plymouth has a new bike scheme at Plymouth Station in conjunction with Plymouth Bike Hire. This move is great for the environment and for the people of Plymouth who want to enjoy the benefits of having a bike without having to buy one. There are lots of wonderful places to see and visit in Plymouth that can be accessed by bike."


Cllr Bowyer stated:
"If you haven't been on a bike for a few years, think about having a go. We're getting more cycle friendly as a city and now have some incredible routes to try, including the new Laira rail bridge and the stunning waterfront route.
"It's good to see more cycle hire spring up for people to get pedalling – it's great for both locals and visitors to see Plymouth, Britain's Ocean City from the saddle.
"It's particularly handy to have bikes at the rail station so that people get on and get out there."
Plymouth Station Manager Sara Rogers said:
"We, as a business and as individuals, have a responsibility to reduce the impact we have on our environment.
"Working with Plymouth Bike Hire, I am delighted to help launch this service to our passengers and to encourage cycling while enabling more people to take advantage of the train."


Plymouth Bike Hire has expanded its traditional manned service and now provides unmanned bike hire using the popular Donkey Republic platform, Donkey.


The app was designed by the bike loving people of Copenhagen and launched in 2015. It proved instantly popular and is now available in seven countries.


Pic shows L to R:
GWR- Plymouth station manager Sara Rogers, Ian Bowyer from Plymouth City Council, GWR Regional Station Manager Mark Chorley, Andrew Thompson from Plymouth Bike Hire and Oliver Colvile MP at the Plymouth Station in Devon during the launch of the new bike hire scheme.
Notes to editors
Great Western Railway (GWR) provides high speed, commuter, regional and branch line train services. We help over 100 million passengers reach their destinations every year - across South Wales, the West Country, the Cotswolds, and large parts of Southern England.
We're currently seeing the biggest investment in the network since Brunel so we can offer more trains, more seats, and shorter, more frequent journeys and continue the network's heritage of helping connect more businesses to new and prosperous markets. Through a series of initiatives we aim to be a good neighbour to the communities we serve and are committed to making a positive social impact in those regions. Learn how we're Building a Greater West at GWR.com. GWR is a FirstGroup company.
Contact Information
James Davis
Media Relations Manager
Great Western Railway
0845 410 4444
07703 890 711