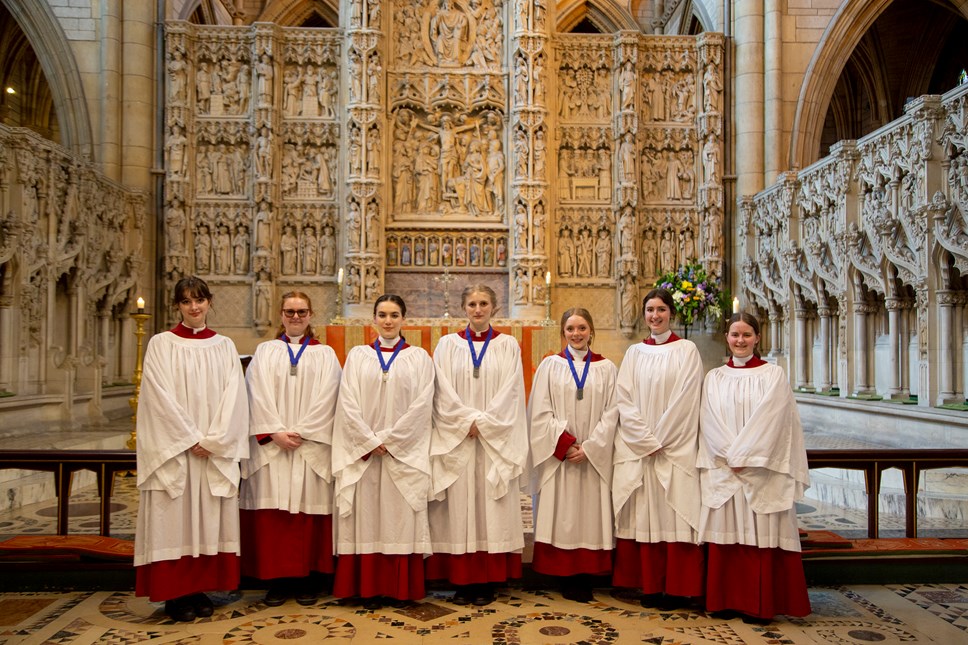 GWR provides first-class treatment for young choristers performing at King's Coronation
Choristers from Truro Cathedral Choir were given the first-class treatment for their big date at King Charles III's Coronation.
Seven members of the choir travelled on a Great Western Railway service to London Paddington ahead of their once-in-a-lifetime experience at Westminster Abbey.
The girls, aged 16-18, joined the choirs of Westminster Abbey and HM Chapel Royal Choir, St James's Palace, to sing at the Coronation of His Majesty The King and Her Majesty The Queen Consort.
All seven are preparing for A-Levels at Truro School and were keen to revise on their way to and from London, so GWR was pleased to step in and host them in first-class.
GWR Director of Sales & Marketing, Amanda Burns, said:
"It was wonderful to see the girls from Truro Cathedral Choir chosen to perform at the Coronation and we wanted to show our support by helping to make their journey as memorable as possible.
"They have certainly done the whole of the Great Western network proud and it was a pleasure to have them travel with us before and after the Coronation."
Head of Choristers at Truro School, Rachel Vaughan, said:
"We were really keen to provide the girls with a comfortable, quiet study space on their journey to London and are so grateful to GWR for hosting us in first class.
"It's a busy time for the girls with their A-Levels on the horizon. Being able to sit in first class meant they were able to make the most of their spacious surroundings and make the best use of their travel time to continue their studies.
"Everyone at Truro Cathedral and Truro School was incredibly honoured to see these girls chosen to be part of the choir and their talents seen on the world stage."
The service featured 12 newly-commissioned pieces of music, including a Coronation Anthem by Andrew Lloyd Webber.
On the eve of the Coronation, GWR named its 0848 London Paddington to Swansea service the 'Flying Carolean', with Intercity Express Train 802103 featuring King Charles III's official Coronation logo along with its new name. Read more here.
Contact Information
John Carter
Media and Communications Manager
Great Western Railway
0845 410 4444
07715 040424
Notes to editors
First Greater Western Limited, trading as "Great Western Railway" (GWR), operates trains across the Great Western franchise area, which includes South Wales, the West Country, the Cotswolds, across southern England and into London. GWR provides high speed, commuter, regional and branch line train services, and before the covid-19 pandemic helped over 100 million passengers reach their destinations every year. GWR has been awarded a National Rail Contract to continue operating the Great Western network, which shall run up to 21 June 2025, with the potential for a further three years at the Secretary of State's discretion. Find out more here: https://www.gwr.com/about-us