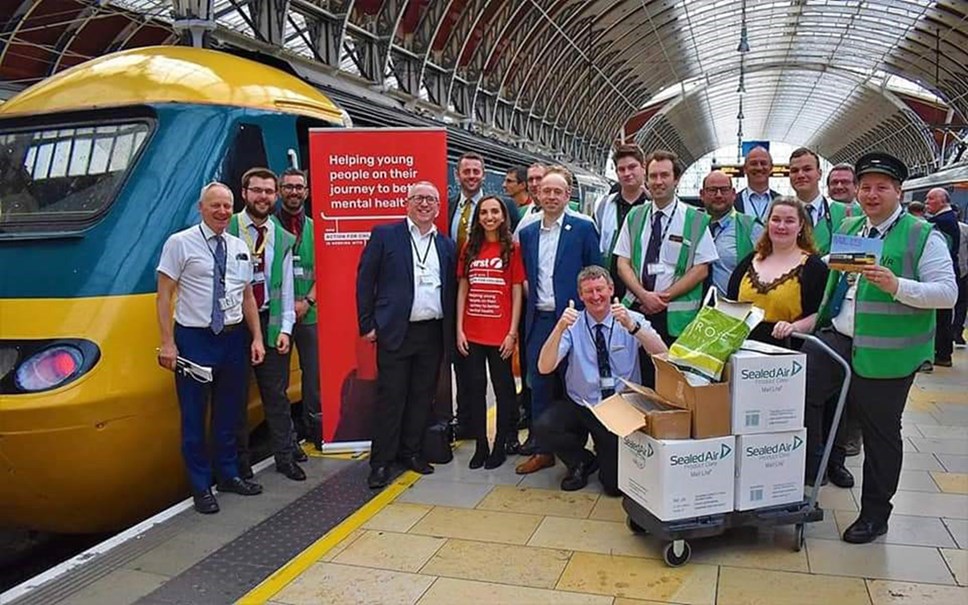 GWR proud of its four-year contribution to £3.5m Action for Children charity partnership
Great Western Railway and its parent company FirstGroup, bring a four-year charity partnership with Action for Children to a close this week after providing more than £3.5 million of support since its launch in April 2018.
The partnership, initially set up for three years, was extended by a fourth year in 2021 and is coming to an end this March. Throughout the partnership, GWR and FirstGroup, have provided support to Action for Children through employee and customer fundraising, corporate donations and gift-in-kind advertising space, as well as volunteering and pro bono support.
A highlight of this fundraising was in June 2019 when GWR ran the HST Farewell Rail Tour, raising £30,000 for the charity. The tour, featuring the last High Speed Train, called The Flying Banana, attracted hundreds of rail enthusiasts to catch a glimpse of it making its final journey across 900 miles of the GWR network.
Community Manager for GWR, Emma Morris, said: "To be able to contribute towards this incredible sum of money, knowing the difference it will make to so many young people, is a huge moment of pride for all of us at GWR".
The organisations' support has focused on the mental health and wellbeing of vulnerable children and young people, including over 1,000 training opportunities for Action for Children mental health staff on the frontline of the Great Western Network.
Thanks to this training, Action for Children employees have been able to deliver initiatives such as The Blues programme, an evidence-based group intervention for 13–19-year-olds with early indicators of low mood and anxious thoughts.
GWR and FirstGroup's funding also supported the training of staff to deliver the Bouncing Back programme, a one-day training course that started in response to the pandemic. Aimed at 8-19 year olds, the scheme looks to equip young people with practical tools, an understanding of good mental health resilience, and the knowledge of when and where to seek additional support.
One of the children who took part in the Bouncing Back training, said: "The Action for Children Bouncing Back training will really help me cope with stressful situations. I've learnt that wellbeing is a way of being a better you and that if you fall over you get back up again. My confidence has had a real boost."
The fundraising support has further led to more than 2,000 activities being provided through Action for Children's Enrichment Fund, giving children, who might otherwise miss out, access to enriching activities and experiences that improve mental health and wellbeing.
Since 2018, Action for Children has been the main beneficiary of FirstGroup's charity activities across its First Bus and First Rail businesses, which includes GWR. In 2020, the partnership won the Business Charity Award for best charity partnership in the transport and automotive category. With this Group-level partnership coming to an end this March, FirstGroup is now taking the opportunity to review its charity partnership approach and explore new ways to complement, support and enhance community investment programmes across its divisions.
FirstGroup Executive Chairman, David Martin, said: "It has been a privilege to be able to support Action for Children in their mission to protect and support children and young people, and to see the lasting legacy that our partnership will leave. Thanks to the extraordinary efforts of our colleagues and customers, who really got behind the partnership, we have been able to fund impactful initiatives, supporting the mental health and wellbeing of vulnerable children and young people across the country, as well as providing vital training to frontline staff."
Action for Children CEO, Melanie Armstrong, said: "Thanks to FirstGroup's partnership and a shared vision to support vulnerable children and young people across the UK on their journey to better mental health, Action for Children has been able to deliver essential life-changing services during a time when they are most needed. Despite all the challenges of coronavirus, the fundraising efforts have been truly impressive. As the partnership comes to an end, we would like to say how grateful we are for the passion and ongoing commitment to Action for Children shown by everyone across FirstGroup, which has enabled us to reach an incredible milestone of £3.5m."
Contact Information
Catherine Hyde
Notes to editors
Notes to editors
FirstGroup funded staff training allowed Action for Children to deliver the following initiatives:
The Blues: A two-day training programme on how to deliver the Blues Programme, an evidence-based group intervention for 13–19-year-olds with early indicators of low mood and anxious thoughts. The course provides young people with simple but effective strategies to support their emotional wellbeing using a blended model of cognitive reforming, coping skills and physical activity. Of those who took part in The Blues initiative last year, 79% said they felt the programme had increased their confidence, 72% demonstrated improved relationships with family and friends, and 98% would recommend the programme to their peers.
The Approach: A one-day training scheme for frontline staff to build their own resilience in dealing with situations and life challenges, learning practical skills that they can share with the children and families they work with.
Bouncing Back: A one-day training programme to enable staff to deliver resilience building mental health intervention for 8–19-year-olds. Bouncing Back is a new initiative developed in response to the pandemic and looks to equip young people with practical tools, an understanding of good mental health resilience, and the knowledge of when and where to seek additional support. Since September 2021, more than 9000 young people have taken part in Bouncing Back, with 72% reporting an increase both in confidence and their ability to cope with stressful situations.
Papyrus UK Suicide Prevention: A workshop for professionals working with young people to improve suicide awareness and alertness. Participants learn how to identify a young person at risk and are given clear and practical information on how to explore suicide and respond appropriately.
About Great Western Railway
First Greater Western Limited, trading as "Great Western Railway" (GWR), operates trains across the Great Western franchise area, which includes South Wales, the West Country, the Cotswolds, across southern England and into London. GWR provides high speed, commuter, regional and branch line train services, and before the covid-19 pandemic helped over 100 million passengers reach their destinations every year. GWR was recently awarded an extension to its direct award franchise (called DA3), which shall run up to 31 March 2023, with an option to extend for a further year.
Find out more here: https://www.gwr.com/about-us
About FirstGroup
Legal Entity Identifier (LEI): 549300DEJZCPWA4HKM93. Classification as per DTR 6 Annex 1R: 3.1.
FirstGroup plc (LSE: FGP.L) is a leading private sector provider of public transport services. With £4.3 billion in revenue and around 30,000 employees, our UK divisions transported nearly 700,000 passengers a day in the 52 weeks to 27 March 2021. First Bus is the second largest regional bus operator in the UK, serving two-thirds of the UK's 15 largest conurbations with a fleet of c.5,000 buses. First Rail is the UK's largest rail operator, with many years of experience running long-distance, commuter, regional and sleeper rail services. We operate a fleet of c.3,750 rail vehicles through four management fee-based train operating companies (Avanti, GWR, SWR, TPE) and two open access routes (Hull Trains and Lumo, our new East Coast service which launched in October 2021). We create solutions that reduce complexity, making travel smoother and life easier. Our businesses are at the heart of our communities and the essential services we provide are critical to delivering wider economic, social and environmental goals. We are formally committed to operating a zero-emission First Bus fleet by 2035 and to cease purchasing further diesel buses after 2022; and First Rail will help support the UK Government's goal to remove all diesel-only trains from service by 2040. FirstGroup was recently named as one of the world's cleanest 200 public companies for the third consecutive year by sustainable business media group Corporate Knights in partnership with US not-for-profit organisation, As You Sow. Visit our website at www.firstgroupplc.com and follow us @firstgroupplc on Twitter.
About Action for Children
Action for Children protects and supports vulnerable children and young people by providing practical and emotional care and support, ensuring their voices are heard and campaigning to bring lasting improvements to their lives. With 512 services across the UK, in schools and online, in 2020/21 we helped 604,885 children, young people and families. actionforchildren.org.uk.