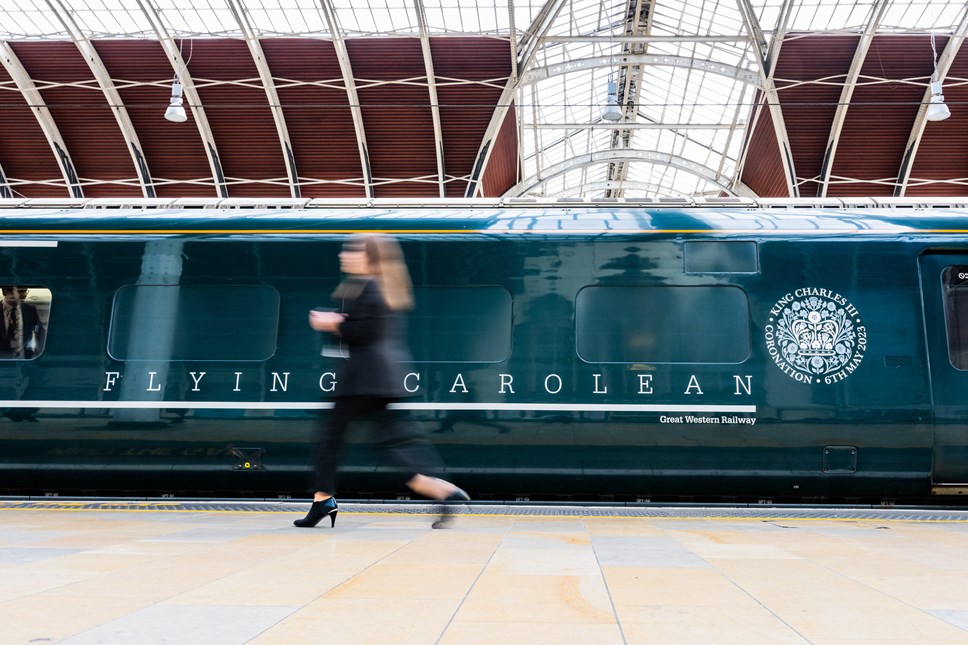 GWR plans Coronation train service fit for a King!
Great Western Railway will commemorate the Coronation in style with a named train service fit for a King!
The 0848 London Paddington to Swansea service will become known as the 'Flying Carolean' from tomorrow (Friday), with Intercity Express Train 802103 featuring King Charles III's official Coronation logo along with its new name.
MEDIA INVITE
Where: London Paddington
When: Friday 5 May
Meet: 0745
RSVP: john.carter1@gwr.com
Where: Swansea station
When: Friday 5 May
Meet: 1125
RSVP: john.carter1@gwr.com
The logo and name will be applied to the side of the train live on the platform at Paddington following its arrival from Cheltenham at 0759.
The 'Flying Carolean' then departs to Swansea at 0848. After it has reached its end destination in Wales, the Coronation logo and Welsh name 'Y Carolean Hedegog' will be applied to the opposite side of the train.
'Carolean' refers to the name Charles and marks the new Carolean era, while GWR chose one of its Paddington to Swansea services to pay homage to the King's 59 years as the Prince of Wales.
Rail Minister Huw Merriman, who will help to unveil the Coronation logo, said:
"This tribute will take pride of place on our railway as we approach the Coronation celebrations and pay our gratitude to the King.
"It's an honour to unveil the sign today and particularly fitting it will adorn a service to Wales – a country both His Majesty and Great Western Railway have served for many years."
GWR Managing Director Mark Hopwood said:
"We're incredibly excited about the Coronation and have been working hard to ensure we have everything in place to carry passengers in and out of London.
"We want to pay our own special tribute to King Charles III and name a train service which not only reflects the new Carolean era, but also celebrates his long association with Wales, where we are incredibly proud to serve as part of the GWR network."
Network Rail Interim Western Route Director, David Davidson, said:
"We've been working closely with our train partners and others to prepare for the Coronation weekend. We've decked out Paddington station, have volunteers on hand across our stations and will be doing everything possible to give passengers a great experience this weekend."
GWR is providing additional trains and extra carriages for the King's Coronation but advises those travelling to allow plenty of time for their journeys.
With around 1.2 million people expected to line the streets of London on Saturday 6 May for the procession to Westminster Abbey, GWR will provide extra very early morning trains from South Wales, Devon and Cornwall, as well as in London and the Thames Valley, to take customers into central London. An hourly, overnight service is being provided tomorrow into Saturday.
GWR will also operate as many trains as possible on the Windsor branch line, between Slough and Windsor, for ticket holders to the Coronation Concert at Windsor Castle on Sunday. Three services will run per hour, with an extra carriage providing an increased 33% capacity per journey.
Up to 30,000 people are expected to attend the concert within the grounds of the castle. Once again, GWR will operate extra late night/early morning services between Windsor and Slough and between London Paddington and Reading. Those travelling are being warned to expect to have to queue in the designated area to board trains safely.
For more information please visit www.gwr.com/coronation.
Contact Information
John Carter
Media and Communications Manager
Great Western Railway
0845 410 4444
07715 040424
Notes to editors
Flying Carolean: 0848 London Paddington-Swansea
0848 London Paddington
0913 Reading
0941 Swindon
1005 Bristol Parkway
1025 Newport
1040 Cardiff Central
1100 Bridgend
1112 Port Talbot Parkway
1120 Neath
1131 Swansea
First Greater Western Limited, trading as "Great Western Railway" (GWR), operates trains across the Great Western franchise area, which includes South Wales, the West Country, the Cotswolds, across southern England and into London. GWR provides high speed, commuter, regional and branch line train services, and before the covid-19 pandemic helped over 100 million passengers reach their destinations every year. GWR has been awarded a National Rail Contract to continue operating the Great Western network, which shall run up to 21 June 2025, with the potential for a further three years at the Secretary of State's discretion. Find out more here: https://www.gwr.com/about-us