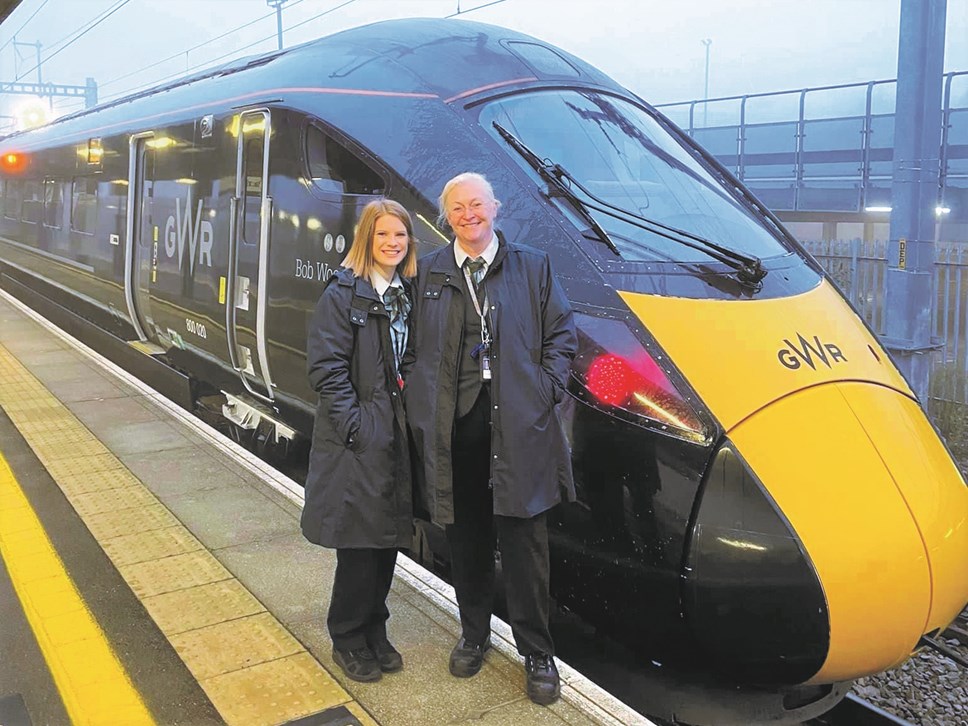 GWR and Samaritans encourage people to become lifesavers with the power of small talk
Great Western Railway (GWR) has joined Samaritans to remind people that we all have the potential to be lifesavers by striking up a conversation.
Samaritans' latest Small Talk Saves Lives campaign launches today, with research revealing that only 50% of UK adults said they would feel confident approaching and speaking to someone they don't know if they were concerned about them in public.
The campaign aims to empower the public to trust their instincts and start a conversation if they think someone needs help.
As part of the launch, a new film reassures the public that a little small talk like 'where can I get a coffee?' can be all it takes to interrupt someone's suicidal thoughts and help set them on a path to recovery.
GWR Train Managers – mother and daughter Carol and Kim Hellyer – are helping to front the campaign, sharing their experiences about how they intervened to save lives. See their stories below.
Samaritans is working in partnership with Network Rail, British Transport Police and the wider rail industry to promote Small Talk Saves Lives, with volunteers heading to stations across the GWR network to highlighting the power of talking and providing myth-busting leaflets.
Volunteers will be joined by GWR staff at:
Swindon Station – 21 February 06:30 - 14:00
Ealing Broadway Station – 22 February 09:00-13:00
Taunton Station – 27 February 0830-1630
Reading Station – 10 March
Julie Bentley, Samaritans CEO, said:
"It's normal to feel anxious about starting a conversation with someone you don't know in person, but at Samaritans we know first-hand how life-changing that conversation could be.
"Suicidal thoughts are often temporary and there's no evidence to suggest that you will make the situation worse – it's about trusting your instincts, starting a conversation, and showing you care.
"We know it's been a really challenging time for people's mental health over the last few years, so we hope the Small Talk Saves Lives campaign builds that confidence and reminds the public of the difference they can make. Let's continue to look out for one another – it could save a life."
Ruth Busby, People and Transformation Director (Regional) for Great Western Railway and Network Rail Wales and Western, said:
"We're really proud to be working in partnership with Samaritans again to help raise awareness of the power of small talk. We've worked with Samaritans since 2010 to encourage life-saving conversations with both our staff and the public. It's so important we continue to look out for one another, as we all have the simple skills which could save a life."
For more information and tips, visit Samaritans.org/smalltalksaveslives or join the conversation on social media using #SmallTalkSavesLives.
CASE STUDIES
Kim Hellyer, 25
"As a train manager, my main role is the safety of the train. I'm always moving through the train checking if everyone is OK.
"I was at work, and I saw a young woman who looked really upset. I asked her if she had a ticket, but she ignored me. So I asked her where she was travelling to. She told me she was going away because she wanted to end her life. I knew I had to keep talking to her and keep her with me, so she was safe. I asked her name and we talked about her job. She told me it wasn't the first time that week that she'd tried to do this.
"When we reached the next station, I needed to open and close the doors to let customers on and off the train. At that point I called control. They arranged for the British Transport Police to come. I continued to chat to her and didn't leave her side.
"I feel so strongly about encouraging other train crews to learn and do Samaritans' 'Managing Suicidal Contacts' training. I want to raise awareness for others who need support too.
"GWR gave me a Gold Award in September last year for this, which I was really proud of."
Carol Hellyer, 51
"I've worked on the railway for 23 years. I've been with GWR as a Train Manager for my entire career.
"We do an introduction to suicide prevention as part of our GWR safety training. So I know to look out for certain behaviours. The main message I remember is 'if you're not sure, go and ask anyway', which is exactly what came to mind when it happened to me, and I saw someone I thought needed help.
"It was early in the morning, and I was driving to work. The strange thing is that I chose to go a different route to work. I caught something out the corner of my eye, who looked like a person who was going to take their life.

"I said, 'please talk to me for a bit'. I told them I was going to come closer so I didn't have to talk so loudly but that I wouldn't touch them. I just kept asking them if that was alright.
"Whilst we waited for the police to arrive, I kept talking and asked them if they'd come and sit with me. After about 45 minutes, they did. I just kept asking questions, trying to distract them.
"About six weeks later, I met with the person I had helped. There were so many reasons I shouldn't have been there that day. I feel so proud and happy they're okay."
Contact Information
John Carter
Media and Communications Manager
Great Western Railway
0845 410 4444
07715 040424
Notes to editors
Main picture: Kim and Carol Hellyer
About GWR
First Greater Western Limited, trading as "Great Western Railway" (GWR), operates trains across the Great Western franchise area, which includes South Wales, the West Country, the Cotswolds, across southern England and into London. GWR provides high speed, commuter, regional and branch line train services, and before the covid-19 pandemic helped over 100 million passengers reach their destinations every year. GWR has been awarded a National Rail Contract to continue operating the Great Western network, which shall run up to 21 June 2025, with the potential for a further three years at the Secretary of State's discretion. Find out more here: https://www.gwr.com/about-us
About Samaritans and Small Talk Saves Lives:
A brand-new campaign film launches today (21 February) across digital and social media, showing the difference people could make if they listen to their instincts and overcome initial worries that may come to mind if they see someone who needs help.
Due to the proven link between certain types of media reporting of suicide and increases in suicide rates, please be mindful of Samaritans' Media Guidelines for Reporting Suicide and Rail Suicide.
In partnership with Network Rail, Samaritans has trained over 27,000 rail staff and British Transport Police in suicide prevention, enabling them to identify and support vulnerable people to safety. This is part of the charity's long-standing partnership with the rail industry to reduce suicides and support those affected by them.
Anyone can contact Samaritans FREE any time from any phone on 116 123, even a mobile without credit. This number won't show up on your phone bill. Or you can visit www.samaritans.org
About the research:
The research was conducted by Censuswide with 2,004 Nationally Representative UK General Consumers (16+) between 03.01.2023 - 05.01.2023. Censuswide abide by and employ members of the Market Research Society which is based on the ESOMAR principles and are members of The British Polling Council.