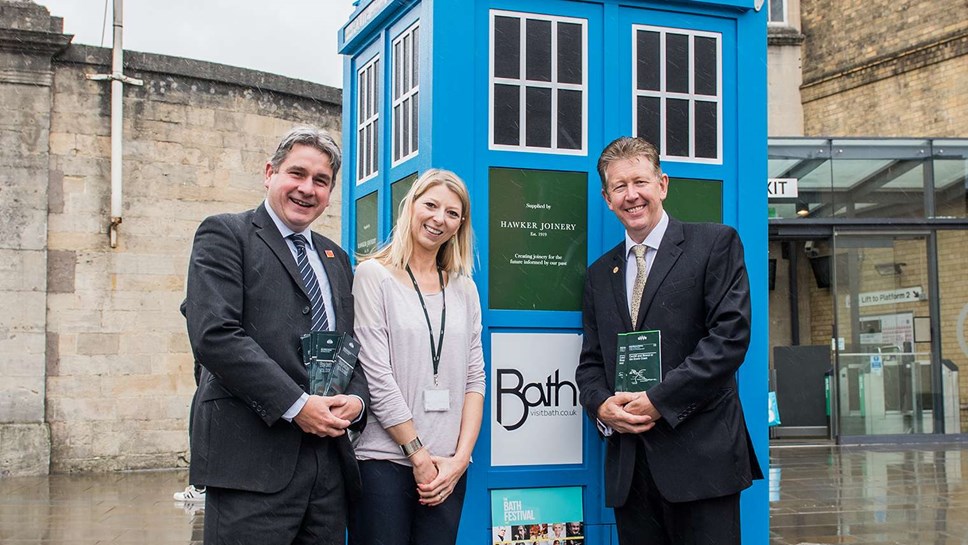 GWR agrees sponsorship deal with Visit Bath
Great Western Railway (GWR) has agreed a partnership deal with Visit Bath, helping to continue to promote the city as a leading UK destination.
Great Western Railway (GWR) has agreed a partnership deal with Visit Bath, helping to continue to promote the city as a leading UK destination.
With GWR providing over 60 services a day between London and Bath Spa, offering over 30,000 seats, as well as direct services from South Wales, the South Coast, and the South Cotswolds, a one-year partnership agreement has been signed.


L to R: Visit bath's Lesley Redwood, GWR's Rachel Jefferies and Visit Bath Chief Executive David James
Bath's new MP Wera Hobhouse has welcomed the move and said:
"Bath is such a wonderful destination with its rich and diverse heritage, its arts festivals and cultural activities, and its retail opportunities. Visiting by train couldn't be easier as you arrive right in the heart of the city. I'm very pleased to see Visit Bath and GWR coming together to help promote our wonderful city."
By working in partnership, the two organisations hope to maximise the role of tourism to the city, helping travellers to make greater use of rail and all the advantages that taking the train has to offer.
GWR Brand and Product Manager Rachel Jefferies said:
"We at GWR reocgnise the value of rail to the national and to local economies, and we are honoured to serve some of the UK's top destinations; allowing people to get to great places.
"Now there is no need to worry about traffic jams or parking. Sit back, relax with a drink, and enjoy the scenery as you watch the UK's only World Heritage city roll into view."
The agreement will see GWR help fund Visit Bath, the official destination organisation for Bath and beyond, and GWR take advantage of Visit Bath publications, helping to improve access to the city.
Leslie Redwood, Head of Business Development and Partnerships at Visit Bath said:
"We are delighted to announce this major strategic marketing partnership with GWR, especially at this most crucial time of the biggest upgrading of the railway in a generation.
"Visit Bath is also a rapidly changing and expanding organisation with much more of a national and international remit than ever before, supporting both the City and Region of Bath with Marketing Campaigns, Events and many new Partnership arrangements, across many sectors, widening the organisation's support and promotional agenda.
"This arrangement is one of the biggest strategic partnerships ever agreed outside of London and is already yielding huge benefits to both partners involved – we look forward to a long and fruitful relationship with our new lead travel partners."
Bath has over 5 million visitors every year, 4.6 million of which are day trippers, making it the most visited city outside of London. During the 2016 Bath Christmas Market, over a quarter of visitors to the city travelled by train with the number increasing year on year.
The agreement comes just a few months before the arrival of new Intercity Express Trains (IET) enter passenger service, providing the biggest change in the GWR fleet in a generation.
Replacing GWR's fleet of High Speed Trains first introduced to the UK rail network in the late, 1970's the new IETs will provide over a fifth more seats per train, enable more frequent services, and with the completion of electrification quicker journey times.
Notes to editors

Great Western Railway (GWR) provides high speed, commuter, regional and branch line train services. We help over 100 million passengers reach their destinations every year - across South Wales, the West Country, the Cotswolds, and large parts of Southern England.
We're currently seeing the biggest investment in the network since Brunel so we can offer more trains, more seats, and shorter, more frequent journeys and continue the network's heritage of helping connect more businesses to new and prosperous markets. Through a series of initiatives we aim to be a good neighbour to the communities we serve and are committed to making a positive social impact in those regions. Learn how we're Building a Greater West at

GWR.com

. GWR is a FirstGroup company.
Contact Information
James Davis
Media Relations Manager
Great Western Railway
0845 410 4444
07703 890 711