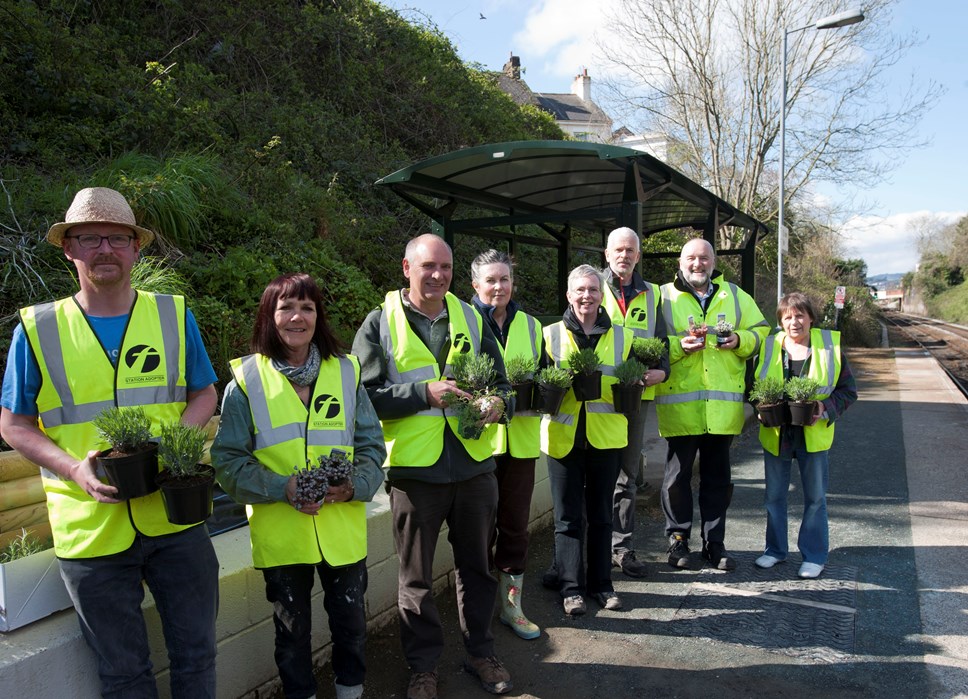 Creating a buzz at Exeter's St James Park Station
Exeter's St James' Park Station platform garden now has lavender, rosemary, thyme and wildflowers to encourage bees and butterflies and make the station more attractive for rail passengers on the Avocet Line from Exeter to Exmouth
Exeter's St James' Park Station platform garden now has lavender, rosemary, thyme and wildflowers to encourage bees and butterflies and make the station more attractive for rail passengers on the Avocet Line from Exeter to Exmouth.
This is thanks to the joint efforts of Devon and Cornwall Rail Partnership, Great Western Railway, the Avocet Line Rail Users Group, Devon Wildlife Trust, St Sidwell's CE Primary School and Exeter City Football Club Senior Reds over two recent planting days.
On Tuesday 19 April, children from St Sidwell's CE Primary School joined Devon Wildlife Trust to plant wildflower seeds, including poppies and cornflowers, beside the path leading down to the station platform.
Emily Stallworthy from Devon Wildlife Trust said: "This has been a fantastic opportunity for local St Sidwell's Primary pupils to help wildlife on their doorstep. Their enthusiasm for helping our important pollinators such as bumblebees and butterflies is infectious! The wildflowers will provide a beautiful display of colours this summer for passengers and passers-by to enjoy."
On the other planting day, on Saturday 23 April, Devon and Cornwall Rail Partnership and Great Western Railway staff were joined by volunteers from the Avocet Line Rail Users Group and the Exeter City Football Club Senior Reds to plant lavender, rosemary and thyme near the platform. The planting was designed by Devon Wildlife Trust to encourage bees, butterflies and other pollinating insects. These are beneficial to all local gardeners, particularly the allotment holders at the station.
Mike Reddaway, chair of the Avocet Line Rail Users Group said: "We are delighted that so much effort has been put into brightening the station – thank you to everyone. Now there will be a great mix of sights and smells to be enjoyed by passengers and insects."
Melanie Harvey, GWR Station Manager for Exeter St James' Park said:
"Our local Community Rail services are not only among the fastest growing but the most reliable in the country - showing the value of local rail services in the South West and how productive partnerships can really deliver results that benefit the local economy.
"We at GWR are delighted to have the support we do in the community, helping to maintain and improve the station environment."
The Devon & Cornwall Rail Partnership helped organise the planting days. The Partnership is a non-profit partnership between local councils and the rail industry which works to promote branch lines in the two counties, including the Avocet Line. Members include Devon County Council and Great Western Railway.
Contact Information
James Davis
Media Relations Manager
Great Western Railway
0845 410 4444
07703 890 711