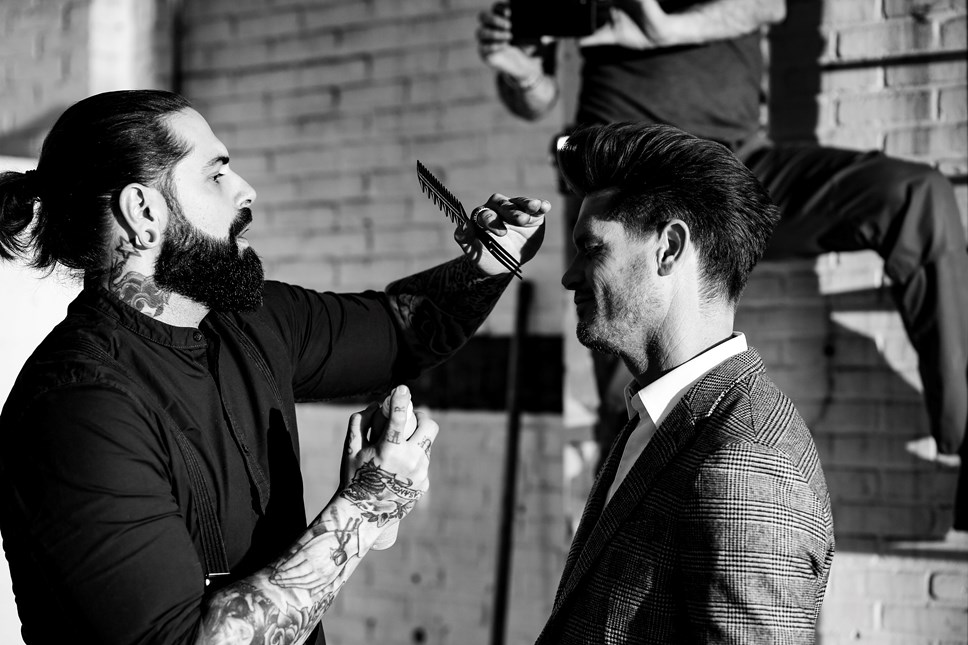 Chance for a free haircut, chat and a cuppa at Newton Abbot Station
Newton Abbot Station will host a pop-up barbershop today (Monday) where men can get a free haircut and discuss their mental health at the same time.
It is one of the first pop-ups to be hosted by The Lions Barber Collective following a £25,000 grant from Great Western Railway.
Three barbers who have been trained to recognise signs of poor mental health in their clients will be on hand to cut hair, trim beards and provide a listening ear.
They will be joined at the station by South Devon Samaritans volunteers, who will be handing out cuppas to passengers ahead of the charity's annual Brew Monday campaign on Monday 17 January.
Torquay-based barber Tom Chapman founded The Lions Barber Collective in 2015 following the death of a close friend.
Recognising that barbers and hair professionals are often a friendly ear to their customers, Tom collaborated with experts to develop a training programme for hair and beauty professionals to support their clients and communities.
The clinically-backed BarberTalk programme gives barbers the skills to direct questions to trigger conversation and to signpost clients to the support they need.
Tom said:
"We're really looking forward to meeting people at Newton Abbot and would really encourage people to pop along for a free haircut and a chat.
"We're fully-trained to make people look and feel amazing and most importantly listen with empathy and without judgment to those in the chair. We're using this as a vehicle to connect with the community and start conversations around mental health."
GWR was able to provide a grant from its Communities and Education Programme. As part of its franchise agreement with the Department for Transport, the train operator has funding to assist schools, colleges, community and other not-for-profit organisations.
GWR Community Manager Emma Morris said:
"The Lions Barber Collective carries out vital work in helping to open up conversations around mental health and we believe these pop-up barbershops could be of real benefit to some of our customers and colleagues.
"We're really excited about this pop-up at Newton Abbot and look forward to working with the Collective to bring more of these events to our stations."
The Lions Barber Collective will be at Newton Abbot from 1000, while volunteers from South Devon Samaritans will join station colleagues from 0700, handing out teabags and talking to passengers about the importance of reaching out to someone they care about.
While the third Monday in January is sometimes referred to as 'the most difficult day of the year', the charity is highlighting that there's no such thing as 'Blue Monday' as people can feel a range of emotions any day of the year.
South Devon Samaritans branch director Dean Sanders said:
"We're really looking forward to being at Newton Abbot station to talk to passengers and are so thankful to the rail industry for their support.
"As we enter another winter in these difficult times, we are encouraging people to look out for their family, friends and work colleagues and be that listening ear that they might just need.
"It doesn't matter if it's Monday morning or Thursday night, or if you're drinking lemonade, black coffee or apple juice. If you're sharing a cup of something and listening, you're making a difference to someone's day."
Notes to editors
First Greater Western Limited, trading as "Great Western Railway" (GWR), operates trains across the Great Western franchise area, which includes South Wales, the West Country, the Cotswolds, across southern England and into London. GWR provides high speed, commuter, regional and branch line train services, and before the covid-19 pandemic helped over 100 million passengers reach their destinations every year. GWR was recently awarded an extension to its direct award franchise (called DA3), which shall run up to 31 March 2023, with an option to extend for a further year.
Find out more here: https://www.gwr.com/about-us
About Samaritans
Anyone can contact Samaritans FREE any time from any phone on 116 123, even a mobile without credit. This number won't show up on your phone bill. Or you can email jo@samaritans.org or visit www.samaritans.org
Every day, Samaritans volunteers respond to around 10,000 calls for help.
Samaritans is a charity and it's the public's kind donations and more than 20,000 volunteers that mean we are always there for anyone struggling to cope. Find out how you can support us or volunteer with us.
Samaritans has worked in partnership with Network Rail and the wider rail industry for over 10 years to reduce suicides on the network. To date, Samaritans has trained over 24,000 rail and BTP staff in suicide prevention to be able to identify vulnerable people, talking to them and getting them to safety.
Contact Information
John Carter
Media and Communications Manager
Great Western Railway
0845 410 4444
07715 040424