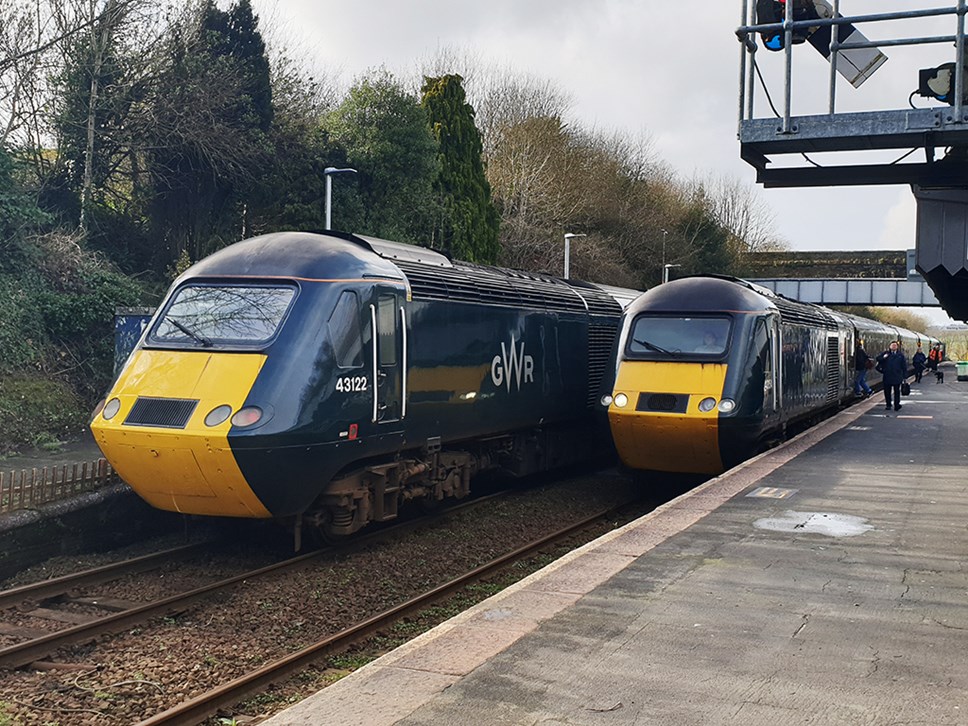 Almost 700 more seats every weekday between Taunton and Plymouth
Train operator GWR is set to introduce direct services between the Westcountry and South Wales, just in time for the festive season.
From Monday 20 December GWR will extend services between Cardiff and Taunton to Penzance, providing direct services between the two cities for the first time.
The trains will provide almost 700 extra seats every day between Taunton and Plymouth, with trains from Cardiff to Taunton being joined up with existing Cornish mainline services between Plymouth and Penzance.
GWR Managing Director Mark Hopwood said:
"Good rail services are key to economic recovery and to decarbonisation.
"We believe that this new timetable, better linking services in Devon will provide our communities with the help and support they need as together we rebuild and renew for the future."
The extra trains form part of wider December timetable change improvements rail operator GWR is making across the south, including the first MetroWest trains for Bristol which will increase rail services on the Severn Beach line to half-hourly.
From Monday 20 December 2021, GWR will also reintroduce half-hourly services between Cardiff and London Paddington, restoring trains cut during the pandemic. In total 18 extra trains, nine in each direction, will operate.
Better connecting Cardiff and Bristol, further improvements in the December timetable change will also see GWR introduce all-electric Class 387 services between Cardiff and London Paddington for the first time, providing a low carbon, sustainable way to supplement capacity on the popular route.
These will start with a limited service on Saturdays and Sundays from 18 December, plus an early-morning service on weekdays, but will also mean GWR can in the future provide extra, up to 12-carriage capacity, for events at the Principality Stadium.
From Monday 13 December GWR will double services on the Severn Beach Line, from hourly to half-hourly, throughout the course of the day. These mark the first step in providing thousands of additional seats, alongside plans for new stations through the MetroWest initiative backed by the West of England Combined Authority.
From January GWR branch lines in London and the Thames Valley will also have their frequency restored to pre-Covid levels: trains between Slough and Windsor will return to three trains an hour; the Greenford branch line will return to a half-hourly service, as will trains between Twyford and Henley. Local services between Didcot and Paddington are also to be restored a full half-hourly service off peak.
In line with the latest Government advice, GWR is encouraging customers to travel safely. People are reminded to:
Wear a face covering
Wash your hands more regularly
Buy tickets online, on a smart card or by using the GWR app
Notes to editors
Great Western Railway (GWR), operates trains across the Great Western franchise area, which includes South Wales, the West Country, the Cotswolds, across southern England and into London.
GWR provides high speed, commuter, regional and branch line train services, and before the covid-19 pandemic helped over 100 million passengers reach their destinations every year. GWR was recently awarded an extension to its direct award franchise (called DA3), which shall run up to 31 March 2023 with an option to extend for a further year.
GWR's enhanced cleaning regime includes:
A 24% increase in cleaning hours every week since March 2020
Sanitising (fogging) of 1,120 vehicles every 4 weeks
Carrying out 2,150 on board surface tests (ATP) every four weeks, to ensure the effectiveness of our cleaning
272 train cleaning processes reviewed, and many adapted
Hand sanitising facilities at key stations across its network.
Contact Information
James Davis
Media Relations Manager
Great Western Railway
0845 410 4444
07703 890 711